Greetings and Happy New Year!
Don't know how it ended up being such a long break- but when you're moving, taking time off, Christmas-ing and New Year-ing... it happens.
I've still been shopping way too much- although I've been getting into the home-wares a little too. Oh so fun.
So after a month of settling in and settling in my beautiful boy- Orlando Bloom I'm ready. I've also had a few trends that I think will be leading the way for the New Year- comfort?!
Trainers.
1) Nike Blazer Mid Burgundy Trainers- available off asos.com. These are great- wear them with casual pants and jeans. Oxblood and dark shades of red are still prominent so don't hold back on adding colour!
2) Ash Bowie Turquoise Wedge Trainers- available off asos.com. Noticed this trend? I'm not entirely convinced on these wedge sneakers to be completely honest but this colour caught my eye. It seems that we will be seeing a lot more of these light shades of blue and it's great.
3) Adidas Top Ten Hi Sleek Hidden Wedge Gold Trainers off asos.com. Metallic much? Anyone that knows me knows that I don't see a point in subtle. If you're going to do it- enjoy it! And how could you not have fun in these darlings? I'm looking forward to the cooler temperatures just so I can make this change.
Some of my favourite desiginers have also joined the trainers trend with their own pieces: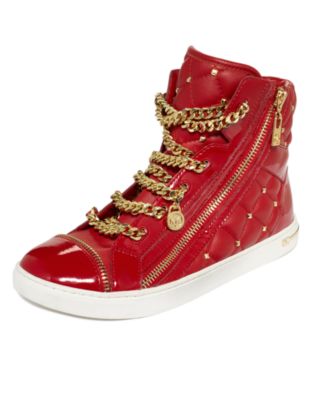 From left to right: MICHAEL Michael Kors Urban Chain High Top Sneakers (shown in red at macys.com they are now available in black at nordstom.com), MICHAEL Michael Kors Fulton Sneakers (sold out currently at macys.com) and Marc by Marc Jacobs Wedge Sneakers from Shopbop.com.
I think if you're also going to try this go for a casual outfit (jeans or casual pants and a tee) and wear a great necklace- something chunky and with some bling. I've also got on order a hoodie and a backpack! What I am looking forward to is leaving the ballet flats behind on a cold day when they do very little- I love my mice more than most people but some days you just need to get comfortable.
I know a lot of people have New Years resolutions etc- I'm not a firm believer in this. If you need to make some changes, make them. But as for changing yourself- only if there is a need.
Happy Shopping!
-Bianca and Orlando :-)