I love this knit, it's cute & easy to wear. I usually tuck it into a skirt and it's super cute. I actually bought a couple of skirts in that range which I wear with this similar to this Alannah Hill skirt:
http://shop.alannahhill.com.au/clothing/skirts-1/little-miss-prim-skirt.html
You can buy the knit online from Myer.com.au or in some stores (it was sold out in the CBD last time I went in):
http://shop.myer.com.au/shop/ProductDisplay?urlRequestType=Base&catalogId=10051&categoryId=17808&productId=96090&errorViewName=ProductDisplayErrorView&urlLangId=-1&langId=-1&top_category=17808&parent_category_rn=17808&storeId=10251
I love the pinks, the reds and when I saw this on asos last week I bought it. I love the cable knits and it should arrive tomorrow so I'll report back (oh and it's on sale: http://www.asos.com/au/Vila/Vila-Knitted-Jumper-in-Multi-Coloured-Cable/Prod/pgeproduct.aspx?iid=1939135&SearchQuery=cable%20knit%20kumper&Rf-700=1000&Rf-400=3663&sh=0&pge=0&pgesize=20&sort=-1&clr=Ravendarkpetrol)
Update: This arrived yesterday and it's pretty cute. I'd say slightly darker that in the picture below but I love it.
Anthropologie. This shop is rather special, when I was in NYC the window displays were just brilliant. I do love a good cardigan, this one is probably my favourite one on their site at the moment: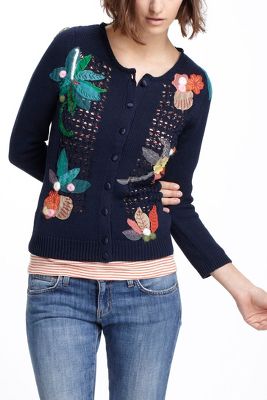 I'm more of a skirts and dresses girl and these jeans just don't do it justice. Something like this Oasis skirt on asos would be very cute:
Thoughts and questions are welcome :-) happy shopping!